Launching our BRAND NEW website!
Posted on: 23/10/2018

We're very excited to finally announce that our SHINY new refreshed website is live! After months of planning, designing and developing, we're thrilled to see all our ideas come to life. Not only have we re-designed our whole website, we've also re-branded the entire company. Our new website has been designed with a contemporary look and it's simple to navigate, enabling visitors to locate items more quickly and easily.
Over the past few years, we've expanded our product range and services including a full bespoke design service at an affordable price. We've invested in two new printers including our dye sublimation printer to allow us to print HD plastic, card, paper and fabric IN-HOUSE! As the printing process has been brought back to the UK, we're now able to an offer super quick turnaround times at a competitive price. From business cards and brochures to wide format banners and exhibition equipment, we can provide everything you need to ensure you stand out from the crowd!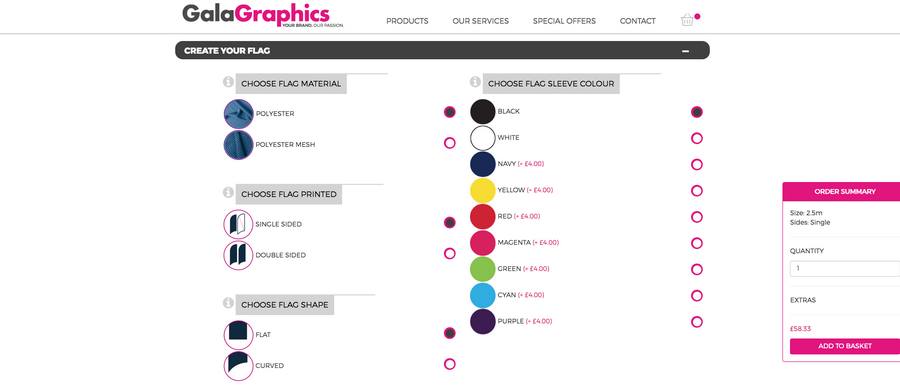 Since introducing the design service at the beginning of the year, we've LOVED creating some beautiful designs and logos for our amazing clients. Design is a critically important aspect for all businesses as not only does is attract attention from potential clients, but it also enhances the quality of your brand presence. Re-branding can be tricky when you're developing the ideal logo, finding the perfect colour scheme and making the right font choices so why not let our talented Graphic Designers do all the hard work for you. Feel free to email info@galagraphics.co.uk or call us on 01709 913955 for a FREE no obligation quote.
Keep an eye out on here as we'll be updating our blog on a regular basis, so you don't miss out on the latest new within the print/design industry. Make sure you also check out our Facebook and Twitter for our latest offers.